Project Features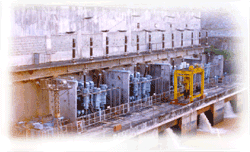 The Project has got a Potential of producing 95 MW of firm power with a generation of 832.2 million units and power is fed to the general grid at the jeypore sub-station. Flow irrigation is provided to an ayacut of 47985 H.A of C.C.A in Jeypore, Boriguma & Kotpad tahsils Jeypore main canal is designed to carry additional discharge for irrigation 22267 H.A of C.C.A at higher contours upto Telengiri river. This lift ayacut will be developed in 2nd stage. Drinking water supply for jeypore town is pumped form the 'Satiguda Pond' by the State Public Health Engineering Organisation.The reservoir is ideal for the development of pisciculture as the water spread area of over 114 sq km is provide recreational facilities for people of Jypore, Koraput and Sunabeda towns. The Project also attracts tourists, being so close to the national highway and rail heads.
Major Constructional activities of the project will continue up to 1985-86 with a peak daily requirement of 6000-8000 workman. Almost the entire bulk of unskilled labour are available locally and the project gives them ample employment opportunities.
Upper Kolab project will change the complexion of backward area with more agricultural production through continuous irrigation facilities and rapid industrialisation with the growth of small and large scale industries and pave the way of prosperity and happiness for future generation.